Shanghai
In 1925, Shanghai has two nicknames : the Pearl of the Orient and the Paris of the East (in honour of its opulence and decadence).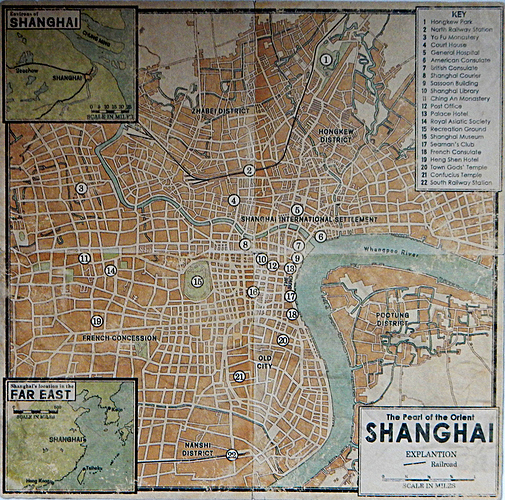 Recent History
Shanghai was opened to occupation and trade by the British as a result of the treaty of Nanking (1842). This treaty was the humiliating conclusion (for China) of the piratical Opium Wars. First British, then French and American representatives took possession of certain areas adjacent to the Chinese city. These areas of extraterritoriality, within which no Chinese law pertained, became known as "the concessions".
In 1854, the three concessions formed the Shanghai Municipal Council (SMC) to jointly oversee their affairs. In 1863, the British and American concessions joined together to form the Shanghai International Settlement. The French concession (between the British concession and the original Chinese walled city) was never formally amalgamated, preferring to keep control of its own affairs.
Under the terms of extraterritoriality ("extrality" for short), citizens of Britain, France and USA and other favoured treaty powers (including Italy) could only be tried under the laws of their native country, even if their crimes were committed outside the concessions. Chinese citizens and non-favoured treaty countries (e.g. Germany) were prosecuted according to Chinese law in local courts.
Population
Despite the fact that foreign powers control Shanghai, there are few actual expatriates. Out of a total population of 1.6 million, only around 20,000 were non-Chinese, and most of these were Japanese. It is not uncommon for bosses to be European, Japanese or American, but almost everyone you meet on the street will be Chinese.
Politics and Economy
In the 1920s, China's economy was in ruins as a result of several recent wars with foreign powers, the collapse of the Qing dynasty and the rise of the warlords.
National central authority—never very strong—has broken down and innumerable regional and local rulers exist, cliques of men committed to maintaining their power by force.
The weakness of central government has led to strengthened family structures and private associations. These associations perform many of the functions that you would normally expect from government (insurance companies, pension funds, political allies, security and policing, …)
The International Settlement is governed by the SMC and forms the core of Shanghai's business and trade operations. It has its own police force, the Shanghai Municipal Police (SMP) as well as the Shanghai Volunteer Corps (SVC) which can be activated in times of civil unrest.
The French concession is home to most of the city's writers and adventurers. It also has a thriving opium trade since the International concession banned it in 1918.
Walking around the city, it is notable that people take security precautions which would be unheard of in London or even in Cairo: high blank walls and stout gates protect wealthy homes and most windows are barred. Everyone employs their own guards and watchmen.
Currency
1 US dollar = 2 Yuan = 10 jiao = 100 fen (cents)
There is a chaotic melange of national and regional currencies (both notes and coins). The Mexican silver dollar is widely accepted as a convertible currency.
Living costs are extremely cheap due to the poor economic situation.
Climate
You arrive in Shanghai on Monday 15 June 1925. Everyone is complaining about the heat and humidity. Average temperature 32°C, average rainfall in June is around 10cm.